Greensource CDi Series SM
The Greensource CDi Series SM geothermal heat pump comes equipped with Bosch's commitment to Creative Design and Innovation (CDi). The SM Model is our most efficient unit
and provides the quality that only Bosch can provide including:
Up to 32.0 EER (part load) and up to 22.0 EER (full load) GLHP
Up to 4.7 COP (part load) and up to 4.4 COP (full load) GLHP
10 year Limited Parts and Labor Warranty
Designed with you in mind: fully customizable to meet your individual installation needs with multi-positional configurations
Highly efficient two stage operation with scroll compressor technology
Constant CFM variable speed ECM providing higher efficiency, improved fan performance
Fiber-free, closed-cell insulation helps to keep the system efficient thereby improving your indoor air quality
Quiet operation with sound level as low as 52 dB
2″ MERV-8 filter keeping out particles as small as 3 microns*
Floating base pan
Evaporator coil made from tin-plated copper tubing with high-tech polymer coated

aluminum fins (DuoGuard™) for durability and reliability*

LCD display
Low and high pressure switch protection
Freeze protection for both evaporator coil and water condensing coil
Condensate overflow switch protection
Anti-short cycling
Brownout/low voltage protection
Stainless steel drain pan*
Utilizes environmentally sound R410-A refrigerant
Optional Features
Cupronickel coaxial heat exchanger
Internal electric heat for instant heat on demand
Passive dehumidification available when paired with specific Bosch thermostat accessories
Comfort alert diagnostic module
SmartStart
Communicating thermostat accessory
Domestic hot water heat recovery package helps reuse latent heat for hot water heating
*Only for vertical and counterflow units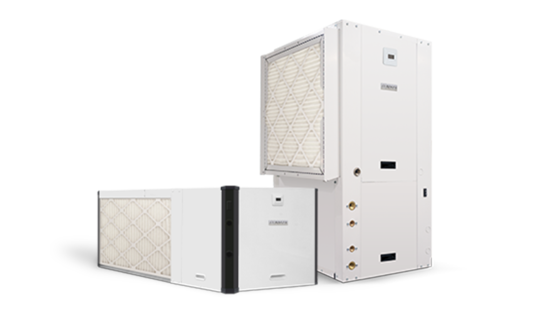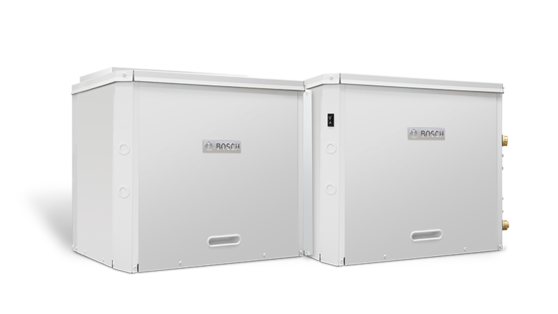 Greensource CDi Series SM Split
The Greensource CDi Series SM Model geothermal heat pump split
system comes in two parts that can individually replace and work with your
existing HVAC system or both can be used in tandem for a full solution. Each
come equipped with the quality and innovative technology that only Bosch can
provide.
Greensource CDi Series SM Model | Split – Condensing Section
Versatile and compact design adapts to replacement, relocation, or new
construction
Available hot water generator
Functional, stylish compact design
Standard 10 year limited warranty on all parts and labor
Two-stage scroll compressor operates in harmony with the earth's temperature extending service life and saving you money
Advanced controls constantly monitor equipment for reliability and longevity
Engineered for noise free operation
Available in both outdoor and indoor models
Greensource CDi Series SM Model | Split – Air Handler Section
Adaptable for varying installation configurations
Capable of using 1" or 2" filters
Condensation overflow protection
Variable speed ECM blower motor for reduced noise and increased comfort
Standard 10 year limited warranty on all parts and labor
Adapts to most existing furnaces
Key Features:
Tin-Plated Evaporator Air Coil
Floating Base Pan
Closed-cell Foam Insulation
2 Stage Compressor
Variable Speed CFM Motor
Filter Drier
Easy Access Filter Rack and 2" MERV-8 Filter
Sloped Stainless Steel Drain Pan
Thermal Expansion Valve (TXV)
Air Tight White Pre-painted Steel Cabinets
Low and High Pressure Switches
R410-A Refrigerant
Electronic Circuit Board with Unit Alerts
Brown Out Protection
Anti-Short Cycling
Water Coil/Coaxial Coil/Condenser Freeze Protection
Optional Features:
Cupronickel coaxial heat exchanger
Internal electric heat
Dehumidification options
Domestic hot water heat recovery package